Whether it's your first time logging in to Cascade or you suddenly can't access the system, here are the most common reasons for login issues and how to solve them:
Update • July 18, 2023
FIU IT recently released new password standards for FIU accounts leading many users to update their passwords. Several users have reported to the DigiComm team that they can no longer log in to Cascade after updating their passwords.
The DigiComm team discovered that in all cases, these users had been locked out of their FIU accounts.
In FIU IT's emails about the changes in password standards, they reminded, "whenever you update or change your password, please ensure to update it on your mobile devices (i.e., stored password for your email, Wi-Fi, etc.) to avoid getting locked out of your account."
If none of the below methods are working for you, you may have to contact FIU IT at 305-348-2284 to unlock your account.
1.  You might need to be added to Cascade
With Cascade, your account doesn't get created when you first try to log in like some other FIU services. You'll need to contact Digital Communications to set up your account.
Learn how to get access to edit your site in Cascade
2. You may be entering your username incorrectly
Make sure when you're logging in to Cascade you are only using the username portion of your FIU email, not the entire email address (your email without @fiu.edu).
For example, if your email address is digicomm@fiu.edu, only use "digicomm" as the username.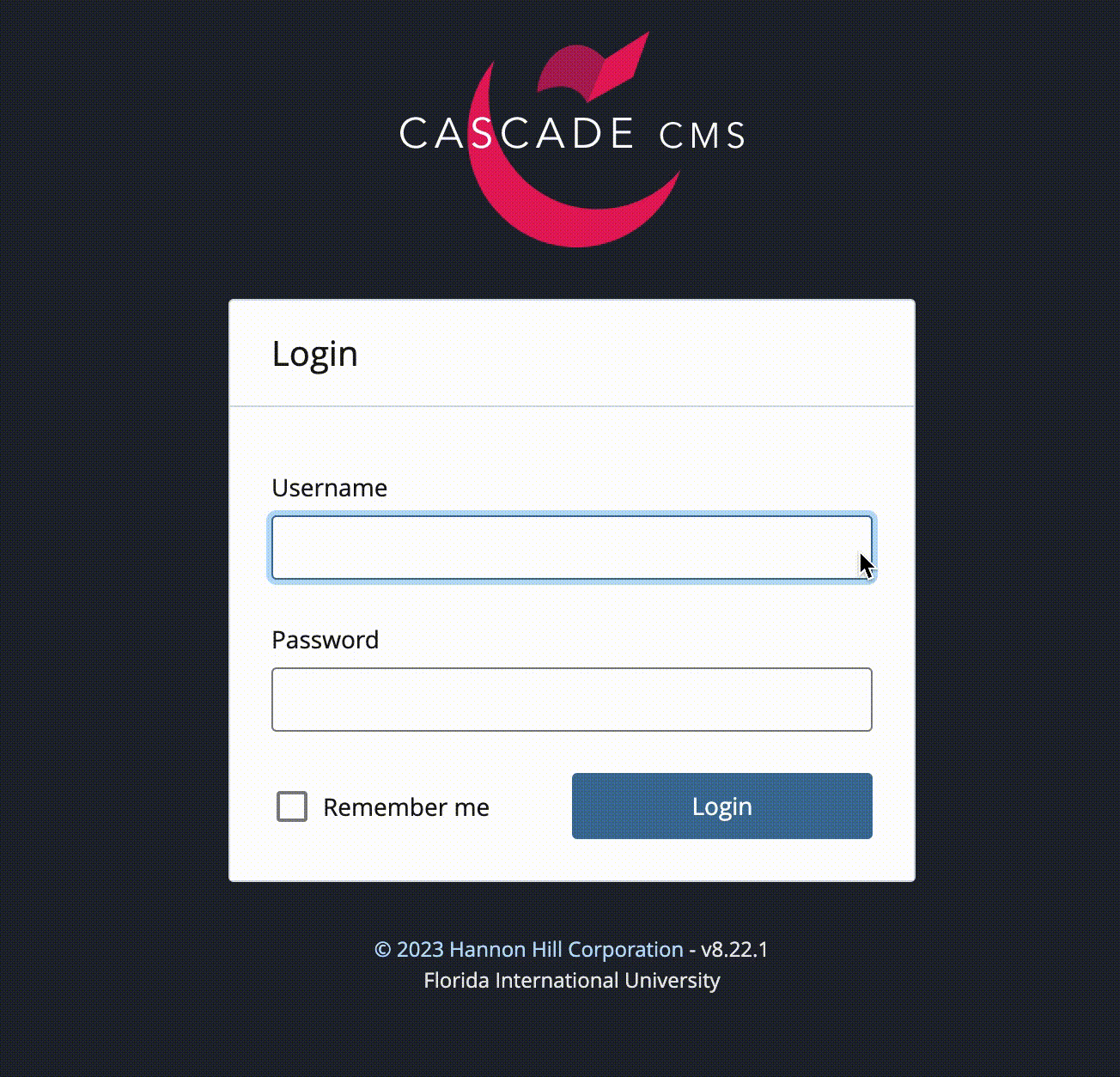 3. Your active directory password may have expired

FIU IT has two main methods for logging in to FIU's online services, active directory and single sign on (SSO). Cascade uses FIU IT's active directory system. Though these two login services sync passwords and other credentials, there are times when passwords can get out of sync as the two services expire passwords at different intervals.
The only fix for this is to reset your FIU password using FIU's account services. If you've made it this far, this is likely your issue.
4. You may have been locked out of your FIU account

Any time you change your FIU account password, FIU IT recommends that you update the login information on all of your devices (i.e., stored password for your email, Wi-Fi, etc.) to avoid getting locked out of your account.
If you believe you may have been locked out of your account, you can reach out to FIU IT at 305-348-2284 or visit the AskIT website.
After going through these steps, if you are still having issues, you can reach out to the Digital Communications team at digimaint@fiu.edu.